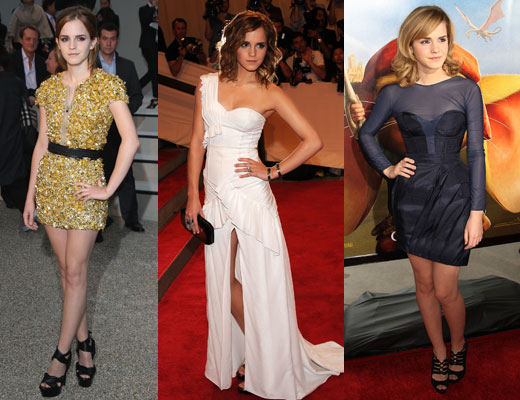 While doing a post on the royal style I came across a photo of Emma Watson in this gorgeous mouth-watering dress hence I decided to look further into her style to see if she has more of those. I'm not a movie fanatic truth be told and I can be pretty lame at remembering names of actors but I rarely forget a stylish look. In summary Emma has acted in Harry Porter, is the face of glancome and is still in Uni. Emma can sure rock a pixie haircut.
For those who love background information, Emma has
her own website
which provided the following information about her. Emma is best known for playing the iconic character of Hermione Granger in the eight enormously successful HARRY POTTER films. Her performance in the first film of the series, HARRY POTTER AND THE PHILOSOPHER'S STONE, won her a Young Artist Award for Best Leading Young Actress. Emma also acquired two Critics' Choice Award nominations from the Broadcast Film Critics Association for her work in HARRY POTTER AND THE PRISONER OF AZKABAN and HARRY POTTER AND THE GOBLET OF FIRE. The completion of the seventh and eight movies saw Emma receive nominations in 2011 for a Nickelodeon Kids' Choice Award, and for Best Actress at the Jameson Empire Awards. The HARRY POTTER franchise won the BAFTA for Outstanding British Contribution to Cinema in February 2011.
Emma's additional credits include the lead role of Pauline Fossil in the BBC adaptation of Noel Streatfield's classic, BALLET SHOES, which aired on BBC One on Boxing Day to 5.2 million viewers. In her first animated feature, Emma voiced over as the character Princess Pea in THE TALE OF DESPEREAUX which grossed $86.2 million worldwide. Further to her acting career, Emma is an ambassador for Lancôme, following in the footsteps of Penélope Cruz, Kate Winslet and Julia Roberts as the face of this celebrated brand. Emma has also worked with Fair Trade and organic clothing producer People Tree and collaborated with Alberta Ferretti on the organic Pure Threads collection.
Emma is in her third year of study at Brown University where she is concentrating in English Literature. She is currently on a year abroad studying at Oxford University.