It's been two years since I last posted and I am not sure I still know how to...lol
Instagram is my current go to social media app and I saw an outfit that inspired this post.
There's a way red and pink just work together in an outfit yet still be able to bounce back on each other to create an eye catching look so below as some ways to incorporate the two colours which are coincidentally hues not too far from each other
This whole outfit inspired this post. I absolutely love it! I love wearing bold colours which don't need patterns to make them pop. The fitted sweater with button details(a whole post unto itself), the midi flared skirt and the shoeeeeees! More than that the styling is perfect, no over-loud accessories or overdone hair just a red lippie to tie it all in
Hate the granny leather jacket!!!!!! That aside, That fuchsia top with red trimmings is Everythang!!!!!!!!! I would probably wear that several times to work, on a date, or a fun outing...paired with the red pants with black belt it's sophisticated which is another reason I hate that black leather jacket. I am really looking to acquire a pair of red pants
Jean Shafiroff tackled this daring trend by wearing a pair of red boots with a pink shift dress at the NYFW spring 2018 show. I love the clean silhouette. It's not a look for everyone but with the bag, shoes and stockings the pink shift dress is almost like a canvass that holds it all together
Now this just stole my breathe away!!!! If I see a girl dressed like this I am sure to turn and keep looking and if possible compliment her. This to me is what makes me think intelligently stylish. I love how the the green blazer and shoes work with the red and pink. It's loud in a cool way. I must do this look at some point. Love love love. I used to have a green blazer this but in all my quarterly edits must have given it away.
This is normally not my kind of style but I can see several people into it. The red beret just adds some chutzpah to this outfit. Actually with my temporary locs I think I should get a beret and incorporate it into my looks. The red and pink are subtle in this look.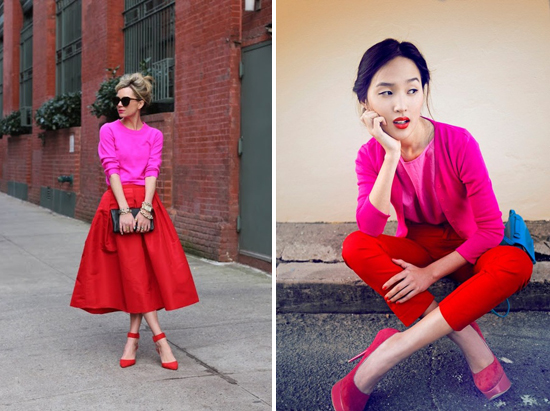 Both these looks are so me. They are both so not fussy yet exude such style, again since both colours are loud, minimal accessories.
This is an outfit I would wear to work though I would probably add a belt as I'm not too crazy about the proportions. The shoes are perfect!!! Pleated skirts have been back in style in any case
In my ideal world this how I would be dressing almost daily. Again this look shows how pairing pink and red allows you to incorporate other colours as long as you tie two items of the same colour together, in this case the blue shoes and clutch.
Front View. This are red skinny jeans with a fitted red Tee/top. This would also would work if she were wearing a red jumpsuit and pink coat.
In the last year or so trends have been gearing towards wider leg and though personally I'm not always too excited about them I do love the high waist ones that gives one the cinched in waist look.
Another pleated skirt but this time a more subtle pink and a more bold red.
Another fun work outfit with the pink more pastel.
This post ended up featuring mostly separates which are my day to day favorites so I figure I will do a different post just for dresses. Happy 2019 y'all